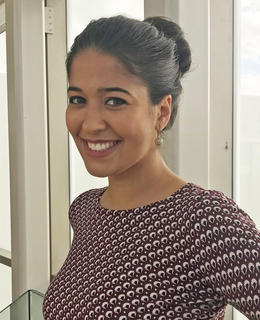 Global Learning Advisor
University of Calgary International
---
Background
Educational Background
MA Hispanic Linguistics University of Western Ontario, 2017
BA Spanish Language and Literature University of Waterloo, 2015
Biography
Vivian is originally from Hamilton, Ontario but has also spent significant time living in Spain at various times in her childhood and during her undergraduate degree. She has also been to Brazil (where she has family), the Dominican Republic, Greece, Portugal, and Morocco. When she travels, she enjoys learning the less formal side of historical events, finding humor in the similarities of the challenges faced by people of the past and present. Vivian has previously held roles at the University of Western Ontario as a Curriculum Support Administrator with the Schulich School of Medicine & Dentistry, and was a Project Coordinator for the Mustang Maps project with their Study Experience office.
International experience: Studied at Universidad de Granada (Spain)
Languages spoken: English, Spanish
More Information
Log in to the Advising Portal
From the left-hand menu, select "Advising", then "Study Abroad". Read the introductory text, then select "Study Abroad Appointment Calendar". 
Select "Book by Provider" to view Vivian's calendar and make an appointment.
While Global Learning Advisors can provide general information about all programs, Vivian is the advisor for these specific programs. 
Exchange, research, and internship opportunities in:

North America (Canada, USA, Mexico)
South America (Argentina, Brazil, Chile, Colombia, Ecuador, Peru)
Caribbean (Barbados, Jamaica, Trinidad)
South Korea
New Zealand

Select 2022 Group Study Programs:

Social Enterprise in Practice in the Dominican Republic
Community Building through Meaningful Collaboration in Japan
Urban Political Economies in the Southern Cone: A feminist and post de-colonial analysis of Buenos Aires
Tropical Life, Coral Reefs, White Sand and Caribbean Rocks
To view each program's webpage, or browse all available programs, use the online Program Finder!